It's Almost Official: Rob's Running for Governor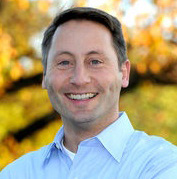 Westchester County Executive Rob Astorino headlined the Lincoln Day Breakfast with a nearly definitive announcement that he plans to challenge New York Governor Andrew Cuomo's bid for a second term. Rob pointed out that New York State is first in all the wrong categories: highest taxes, worst business environment and largest net out flows of residents. All of which have further deteriorated under the progressive Democrat.
Making the case that as County Executive he has restored Westchester as a sought after location for businesses, reduced county taxes and kept the county's status as the highest bond rating in the state, Rob said that he would do the same for New York.
Since 2010 New York State has lost nearly 400,000 residents. One of its most venerable employers, Remington Arms, has announced they are opening a factory in Alabama. He said that New York can truly be the Empire State and not a location that people want to get away from.
"When people immigrated from Italy, the destination was 'To NY', now it is 'To SC', 'To NC', To TX', 'To FL'.
Highlighting the progressive craziness that has resulted in New York's deteriorating state, he mentioned that the present governor is proposing that imprisoned felons be given a free college education at taxpayers' expense.
He said that he and his wife are saving money for their children's college educations, but that Cuomo's proposal made him wonder whether "it would be better if his son robbed a bank."
Pivoting off the Abraham Lincoln quote, "Give me six hours to chop down a tree and I will spend the first four sharpening the axe," Astorino said "that's what I'm doing now, sharpening the axe."
Former 18th District Congresswoman Nan Hayworth, who is seeking reelection, spoke on the themes of how the federal government's recent policies are destroying liberty and freedom.
Chris Dey, son of newly elected GOP Rockland County Executive Ed Dey, announced that he would be taking on too long-time Congresswoman Nita Lowey in the 17th Congressional District, whom he accused of being retired from office and not representing her constituents.